Written by Kay Soede
Sunday, 24 February 2008
We went to Yokohama Bayside Arena with Genki, Ayaka and their father Hideaki yesterday.

It's basically just like the DFO (Direct Factory Outlet) – a shopping centre full of outlet stores.

Clothing was pretty cheap – especially the winter items, which is very handy for me, as Australia is heading into winter soon
J
Got some long sleeve shirts for Zac & myself for 40 – 70% off.

Unfortunately, I forgot to take photos again, so no photo of Genki, Ayaka & Hideaki . . . maybe next time!!
Zac is getting very good at eating with spoon and drinking out of glass. These days, he eats rice or whatever in a bowl with spoon all by himself (sometimes with chopsticks!). He didn't used to like the crust part of bread - but it's his favourite bit now - just like his mum!!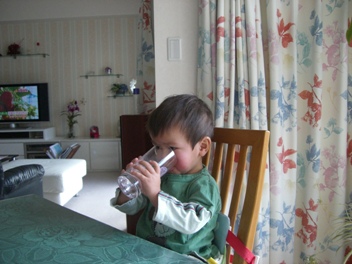 He actually enjoys drinking out of glass rather than his bottle . . . I suppose once he gets used to it, it's less frustrating J
Last Updated ( Sunday, 24 February 2008 )