Written by Kay Soede
Friday, 15 February 2008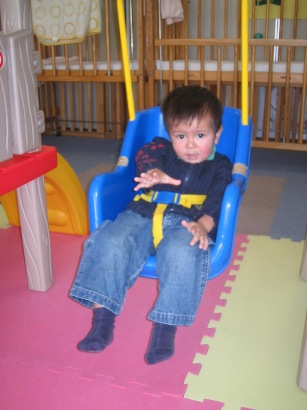 2nd day at the Play group J Zac wasn't in the very good mood right from the start of the day – so he enjoyed for a little while before the room got overcrowded . . . I think he is missing his daddy. He is heaps crankier these days compare to back home . . .
The group was running from 10am – 3pm today, but we ended up being there from 10:15 for about an hour and left. They don't allow any snacks in the group, so lunch can be eaten between 11:30-12:30, but Zac couldn't wait – as he normally eats his morning tea at 10:30. I think I will give him morning tea before we go next time, and hopefully, he can play nicely until lunch time.
We're still not used to this cold weather. He wants to go outside and play, but he hates the fact he has to wear thick jacket which doesn't allow him to move freely. And as soon as we go outside, he wants to come back in, because of the chilly wind he gets on his face. I hope it will start getting warm soon . . . We both miss the beautiful weather back home . . .
Last Updated ( Friday, 15 February 2008 )