We had a break today J First day in ages!!! We actually had a day booked to spend with our friend from Nagoya who has been in Tokyo for last 3 days visiting Tokyo Disneyland, but they had flat out schedule in Tokyo and decided they couldn't spare time to see us . . . Oh well – they just have to come and visit us in Australia next time J
It was good to have a break, though. Zac has been only having short naps on the pram when we are out (normally around 1 hr, sometimes 45 min, and sometimes 1.5 hr), so he decided that he would take opportunity and sleep as long as he can. I finally woke him after 3 hrs, as it was already 4:30pm, and we had to eat dinner at 5pm because of the meeting at home mum was running. Even so, he went back to bed at 8pm (normal time) J These days, he doesn't wake up until about 7am – what a good boy J
We spent about 1 1/2hr in the morning at park. These bronze statues were at the station.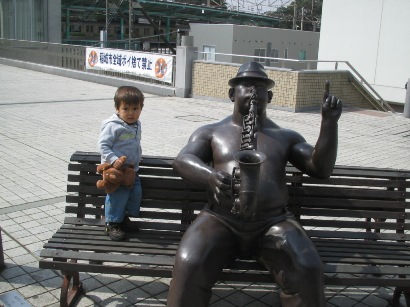 Zac doesn't like patting live cat, but he doesn't mind this one J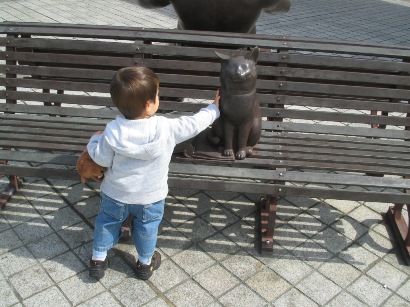 He decided to grab his grandma's hand while he watches the Wiggles. He dances at some of the songs these days – when he is in good mood J
He is naughty and I have to keep watching him to stop him from doing this!! He knows he is not supposed to be on the table, but when he is watching DVDs, he forgets, and does this – to try to reach the buttons to play with!!
We will be away for a couple of days – so you won't see an update tomorrow.

If we are home early enough on Tuesday, I will try to update
J
Otherwise, we will be away all day on Wednesday as well – so I won't promise any update until Thursday!!